This basket hanger is a perfect way to brighten up your back yard. Hang your flowers, bird seed or even a humming bird feeder!
These are all 1/8th thick steel, powder coated gloss black and measures one 1 foot from the mounting surface. These are built to hold any basket from your local garden center.
Looking for something more personal? Contact us and our metal experts will work with you to create the perfect customized piece based on your design or idea.
Customer Reviews
11/15/2022
Diane W.

Canada
Berner Hanger
I adore these hangers, they are the best quality and have ordered over 6 of them these past couple of years. Highly recommended, they make great gifts and I know I will order more.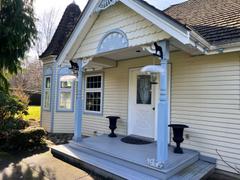 08/04/2021
Diane W.

Canada
Bernese Mtn Dog Hanger
This item is incredible, solid/amazing quality and work. I needed something special to hang a memorial wind chime and this is perfect, thankyou so much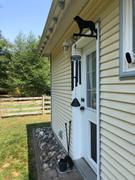 01/24/2022
Diane W.

Canada
BERNESE HANGERS
I cannot rate this product highly enough, superior quality - absolutely love them ❤️